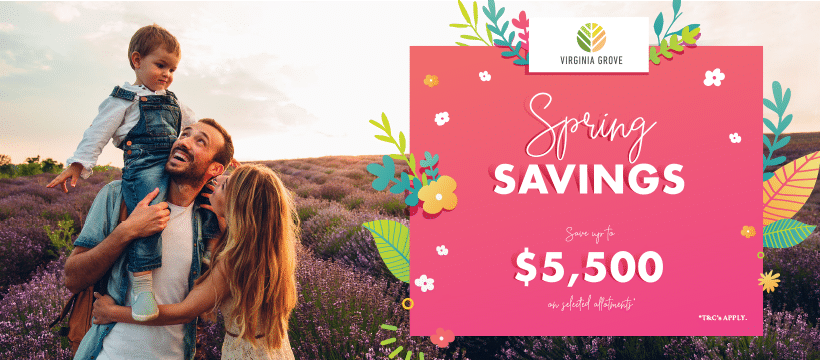 Spring Savings
Has spring had you dreaming of a brand new home? Of a big back yard and plenty of space for the kids to play? Have you been fantasising about a home theatre, a butler's pantry or a play room for the kids?
For a limited time only, selected allotments come FREE** of stamp duty. Settle before January 17th 2020 and get your dream home with your dream lifestyle thrown in for free.

Find out more http://bit.ly/2B0pqGJ
**Purchasers must settle on eligible titled allotments on or before 17th of January 2020. Eligible lots include Lot 842 (savings of $5,510), Lot 844 (savings of $5,470), Lot 840 (savings of $4,230) and more. Savings are computed through RevenueSA's Stamp Duty on Conveyances Calculator (available via https://www.revenuesa.sa.gov.au/taxes-and-duties/stamp-duties/calculators/stamp-duty-on-conveyances-calculator-new). Refer to project consultants for full offer details. Stamp duty savings (exclusive of any foreign purchaser surcharge) will be paid by Virginia Grove at the time of land settlement. If the said allotment settles on or after 17th of January 2020, the promotion is void and the purchaser will be responsible for meeting the full cost of the stamp duty. Not valid with any other promotions or offers. T&Cs apply. RLA 268 669.