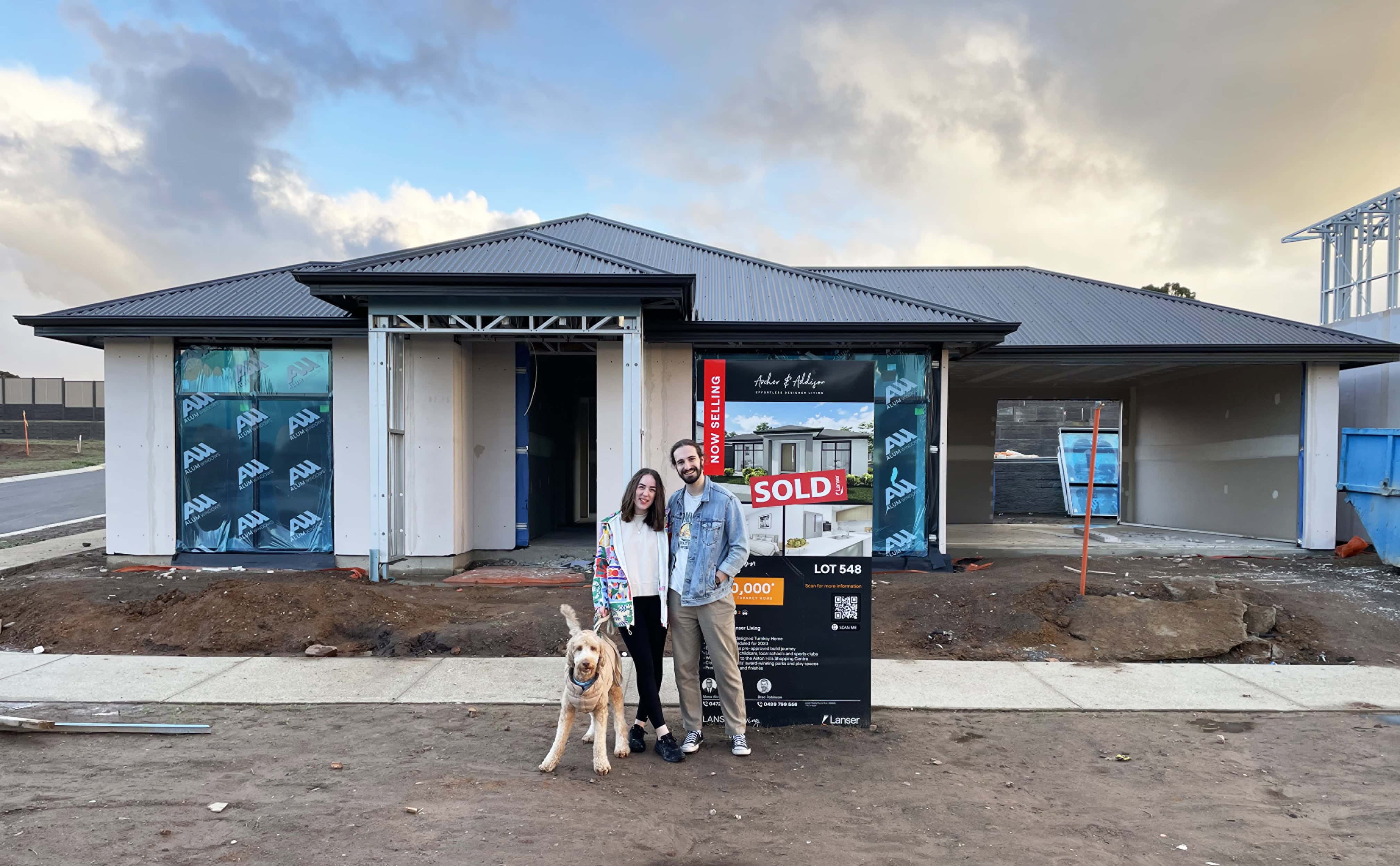 A Fast Build, a Fixed Price, and The Joy of Ownership: First Home Buyers Share Their Emotional Journey
Congratulations to Alex, Tom and Ziggy on their new Addison home by Lanser Living! Discover how they found their dream home as first-time buyers with a fast and fixed-price solution that streamlined the entire build process. From design choices to a stress-free journey, their decision to choose a Lanser Living home was a game-changer.
Tell us all about the design of your home and what attracted you to this Lanser Living turnkey package?
Each time we visit our home and check on its progress, we are reminded that this was the best decision we could have made for our future and our family. We absolutely adore the design of our home, the colours, the openness, the big, beautiful windows that fill each room with an abundance of light.
Every corner of the property feels like home and has from the moment we saw it. The outcome of this turnkey package for us is having a brand new, modern, charming home, but the process has removed the unnecessary stress of selections, price increments and outsourcing.
How would you describe the purchasing journey of your home?
We first came across the Lanser turnkey package online. We then contacted Lanser's Land Consultant, who has truly been the most kind and honest individual throughout the entire process. He was very responsive to our many calls and emails, he has been genuine and open about the process, and has honestly brought the joy back into this journey.
Did you like the fact that the home was already under construction, and that the build process would be simplified?
YES!! We had initially been set to build within a different development, however after over 12 months of delays we decided to find a new block of land. We were disappointed as we knew it would be many months before we could even commence building a house, but when we saw the turnkey property we were kicking ourselves for not exploring this beautiful development sooner. We were also excited to potentially avoid the delays and stress of building, and obtain a property that was well and truly on its way to being finished this year.
Tell us about the selections in the home? Did you like the fact that the build journey and selections process were all streamlined for a speedy build?
We were unsure at first if the design and selections of the turnkey property would suit our style, but we could not have been more wrong. The simplicity and openness of our home, the modern and bright façade, the high ceilings and thoughtful storage spaces, we feel so lucky to have found a property that suits and compliments our style so well and will allow us to move in much earlier than we expected.
Did you like the fact the home was fixed price – did it help you to budget?
The home being fixed price has absolutely allowed us to enjoy the process again, as the stress of price increments and external fees such as landscaping and flooring, has all been taken away. We can now focus on budgeting, as we have a clear and fixed price for our home.
Tell us about your journey as first home buyers…
We commenced our journey as first home buyers in December 2021, at the time we were optimistic and excited. It was not long however before such feelings were extinguished. For over 17 months we have been dismissed and disempowered by agents and industry professionals, that took the joy our of this momentous stage of our lives. We felt utterly defeated by delays and price increments, and truthfully did not have much hope left for our 'dream home'. We recently started looking at established homes, though our budget did not allow us to consider a wide selection.
I do not think our Lanser Sales Consultant will ever truly understand how grateful we are to him, for not only being a fantastic sales agent, but someone who has been kind, patient and genuine throughout the entire process, but has more importantly restored the enjoyment for us. After a very long and difficult 17 months, we are finally seeing progress, and we can not show enough gratitude to the Lanser team. Within 1 month we have gone from devastated and defeated individuals, to delighted and proud (almost) homeowners.
Find out more about Lanser Living's range of fixed price, move-in ready homes at Virginia Grove here or please contact our team.